Ua silia ma le 50 tausaga talu ona aafia tagata pasefika aemaise o tagata Samoa ma tagata Tonga i ni osofaiga faailogalanu i le vaveao a leoleo ma Mālō o ia Tausaga tuuaia ai tagata pasefika i le nofo faasolitulafono i totonu o Niu Sila.
Na faatumulia le Town Hall i Aukilani ma e faitauafe tagata na molimauina le faatoesega i luga o upega o fesootaiga. Na amata lenei polokalame i ni tu ma aga faaleaganuu a atunuu o le Pasfika e pei o Niue, o le atu Kuki ma isi atu motu laiti ae na ogatotonu i le sauniga faaleaganuu a Samoa e ala i le ifoga lea na faapulou ai le tamaitai Palemia o Niu Sila Jacinda Ardern i le ietoga.
O le uluai taimi lenei ua fai ai nei tulaga e se taitai o se atunuu e faatoese atu ai i ni faiga faalealofa na aafia ai tagata ao nonofo ai i Niu Sila i le 50 tausaga talu ai.
o se vaaiga uiga ese i le maimoa ai e le gata o tagata na molimauina le sauniga ae faapea le lalolagi e tauala atu i auala o fesootaiga faaonaponei ona e le gata o le faaogaina o leo o osofaiga i fale o aiga ae o le tau fai tagi auē o tagata na aafia i ia osofaiga.
O se tulaga na vaaia ai le loimata maligi o i latou na auai ma lagona ai le momomo o le loto ona o faiga lē talafeagai a le Malo o Niu Sila i ia tausaga. I lenei faatoesega na aumai ai ma ni vaega e lagolago ai e pei o sikolasipi mo fanau pasefika ae le gata i lea o fanau o loo i Samoa, Tonga Tuvalu ma isi atu motu laiti e mafai ai ona aoaoga i totonu o Niu Sila. Na taua foi e Jacinda o le a aoaoina tulaga o faiga faailoga lanu nei i totonu o aoga mo le malamalama o fanau laiti i vaega na tutupu mai i tausaga ua te'a.
Na talosaga foi sui o atunuu laiti o le pasefika e pei o le Pirinisese o Tonga le faigamalo pe e iai se avanoa e tagatagai ai foi i tulaga o femalagaiga poo no pepa nofo mau ma visa mo tagata pasefika o loo nofo faasolitulafono i Aotearoa.
Taua e nisi na auai le lagona o le fiafia ma ave ai le faamalo i le Palemia ma Lana faiga Mālō ona o lenei faatoesega faapitoa.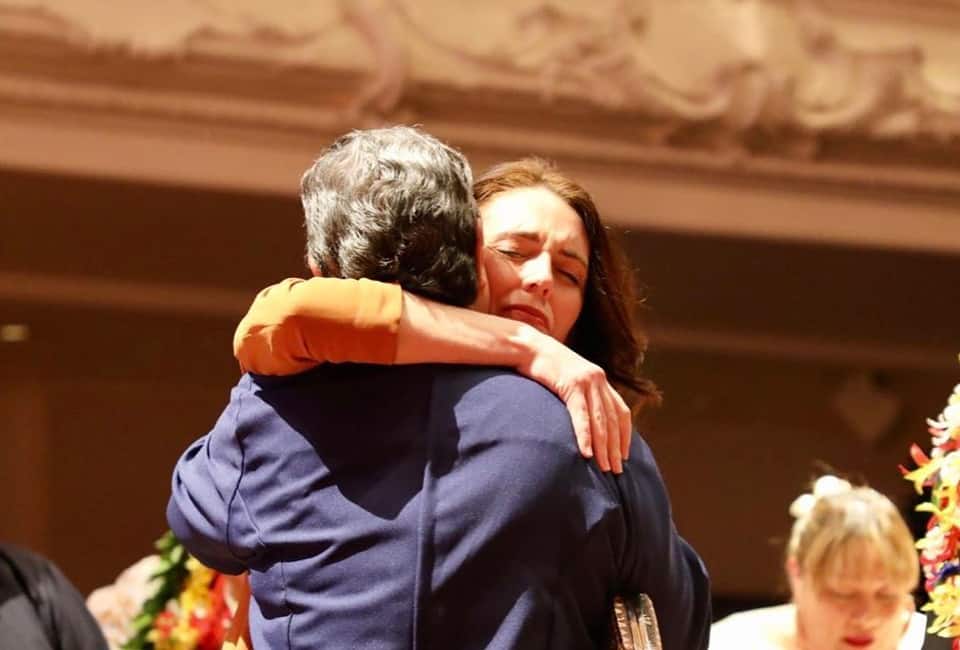 O se gaioiga ua leva ona faatali iai tagata Pasefika ma o le faamoemoe a le malo ina ia mautinoa e lē toe tulai mai ni faiga faailoga tagata ma le faailoga lanu i totonu o Niu Sila.
O le lauga lenei a le tamaitai Palemia ia Jacinda Ardern i le gagana faaperetania;
Today I was humbled to offer these words- an apology that has been a long time coming. Many of you will know this story. To those who don't, please read on.

"During the economic boom of the 1950s, New Zealand encouraged significant migration from the Pacific region to fill labour shortages in the manufacturing and primary production sector.

It was a time of economic prosperity and many migrated from the Pacific to New Zealand as a result.
However, at the downturn of the economy in the early 1970s, parts of our society began to see migrants as jeopardising their financial security and quality of life.

The migrants who became the focal point and scapegoat for these fears were largely Pacific peoples, and when Police and Immigration enforced immigration laws around overstaying, not everyone was targeted.

Instead, Police and Immigration officials overwhelmingly conducted raids on the homes of Pacific families.

Officials, often accompanied by dogs, undertook late night and early morning (dawn) raids of homes.
Residents in those homes were woken abruptly, physically removed from their beds and forced into Police vans to be taken for questioning.

Some were hauled to the police station to appear in court the next day barefoot, in pyjamas or in clothes loaned to them in the holding cells; others were wrongfully detained……

Today, I stand on behalf of the New Zealand Government to offer a formal and unreserved apology to Pacific communities for the discriminatory implementation of the immigration laws of the 1970s that led to the events of the Dawn Raids.

The Government expresses its sorrow, remorse, and regret that the Dawn Raids and random police checks occurred and that these actions were ever considered appropriate.

Our Government conveys to the future generations of Aotearoa that the past actions of the Crown were wrong, and that the treatment of your ancestors was wrong. We convey to you our deepest and sincerest apology."